Bluewater builds back better for the new customer journey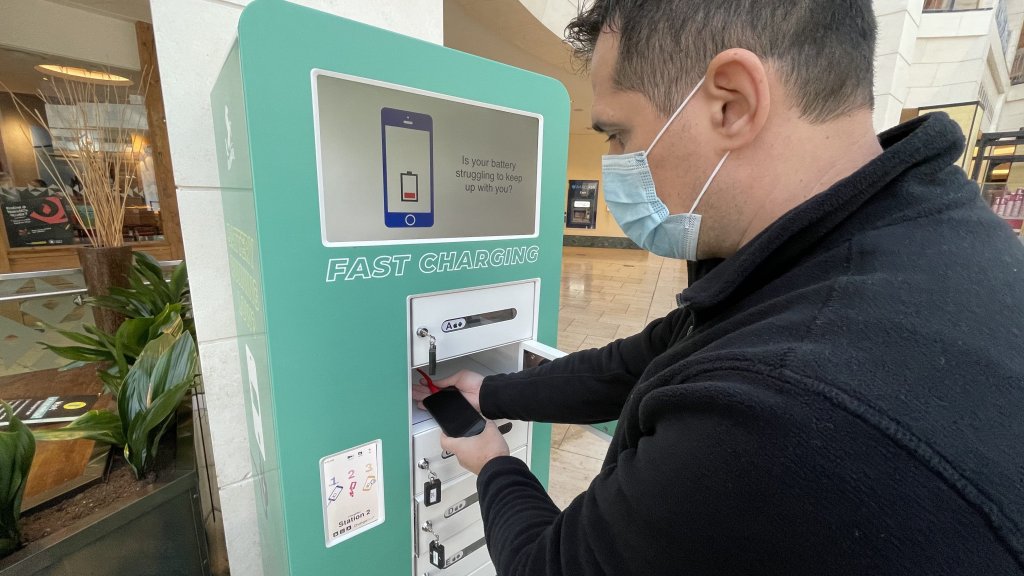 The first shopping centre in Europe to offer its shoppers free, fast mobile device charging
London, UK: ChargeBox today announced a new partnership with Bluewater, one of Europe's leading retail and leisure destinations to offer its guests free, fast mobile device charging.
Bluewater is the first retail destination in Europe to offer ChargeBox's Fast Charge technology which is up to 4 times faster than most shoppers are used to at home*. Therefore a device can be charged from zero to 50% in just 30 minutes, with no cost attached.
Bluewater recognises the importance of keeping their guests connected and that there are few things as irritating or anxiety-inducing as having a low phone battery. The phone is critical to the customer journey and central to the new experiences and technologies being deployed by retailers, from AR gamification to automated mobile checkout. The exponential growth in mobile proximity payments as a convenient alternative to cash post-pandemic gives additional importance to having a charged device.
Ian Hobson, CEO at ChargeBox, says, "We're thrilled to be providing our brand new, market-leading fast charging solution at Bluewater. They recognise the importance of mobile devices in the shopper journey and are leading the way in improving the shopper experience post-pandemic."
Robert Goodman, Director of Regional Shopping Centres, Landsec, says "We are always looking at innovative solutions to enhance experiences and to ensure our guests are fully catered for throughout their visit at Bluewater. ChargeBox will provide an additional service and complement the concierge, click and collect elements also available whilst providing connectivity for all."
The benefits of this new partnership include:
· Improving the guest experience post-pandemic
· Supporting new consumer journeys reliant on mobile devices
· Surprising and delighting Bluewater visitors
About ChargeBox:
Since 2005, ChargeBox has led the way in providing secure out-of-home charging for mobile devices. We are the experts in helping companies keep their customers charged and connected and support mobile technology's new demands.
Our clients benefit by improving customer satisfaction and loyalty, increasing footfall and spend while ensuring their customers can always use their smartphone for payments, information, coupons, and critical apps. As a result, customers experience reduced stress and anxiety from low batteries and feel safe in the comfort of knowing they can securely charge their phone and stay connected to their loved ones.
About Bluewater:
Bluewater, Europe's leading retail and leisure destination, offers great shopping with free, extra wide parking and has over 300 stores and more than 50 places to eat and drink. Plus, with a 17 screen Showcase Cinema de Lux including IMAX, Gravity Trampoline Park and Dinotropolis Giant Soft Play, there's something for everyone.
Find out more at bluewater.co.uk
*using a standard 5W charger
About Landsec:
At Landsec, we strive to connect communities, realise potential and deliver sustainable places.
As one of the largest real estate companies in Europe, our £10.8 billion portfolio of well-connected retail, leisure, workspace and residential hubs. From the iconic Piccadilly Lights in the West End and the regeneration of London's Victoria, to the creation of retail destinations at Westgate Oxford and Trinity Leeds reduction and climate resilience. We deliver value for our shareholders, great experiences for our customers and positive change, we own and manage some of the most successful and memorable real estate in the UK.
We aim to lead our industry in critical long-term issues – from diversity and community employment, to carbon for our communities.
Find out more at landsec.com