Charging Solutions for In Store Retail
Device Charging for
In-Store Retail
Increase dwell time and return visits with ChargeBox
A ChargeBox charging service is easy to install and provides:
Stress-free charging
Device security fully guaranteed
Increased dwell time and increased spend
Reduced low battery anxiety
Data capture on device type and charges delivered
'Lock & Shop', 'Stay & Charge' and Integrated charging options available
Sponsorship opportunities through full vinyl wraps, decal placement and video content.
Product Information and Pricing
The value of safe and secure charging:
For Shoppers
Providing a fast charging service removes the low battery anxiety often felt by shoppers while enhancing their in-store experience. ChargeBox helps to keep shoppers connected for their entire visit through safe and secure charging stations.
For Store Managers
Charging services increase footfall and dwell time and are proven to lead to an increase in customer spend, basket size and conversion rates. Customers who no longer have to worry about charging can shop stress-free and enjoy the retail experience.
For Sponsors
ChargeBox offers full vinyl wraps, decal placement and video content to provide brand awareness and further sponsorship opportunities.
'Lock & Shop' units enable customers to safely and securely leave their mobile phone to charge while they shop.
In retail environments, 'Lock & Shop' units are proven to increase customer dwell time and spend.
Our bespoke 'Stay & Charge' units are designed to integrate seamlessly into the furniture in your luxury lounge, meeting room and waiting room environments. Finished off with your custom branding and with both wireless and wired charging options, these solutions provide your high value customers a free charging facility a boost to their experience with you in your store.
ChargeBox can provide both 'Lock & Leave' or 'Stay & Charge' solutions that integrate seamlessly into your furniture.
Charging Solutions include:
The QUBE™
Table top 'Stay & Charge' unit
Charges up to eight devices simultaneously
Eight reinforced, colour-coded manufacturer cables
USB 2.0 optimised charging
Options to secure to surroundings via a hidden locking system.
Includes antimicrobial coating protection.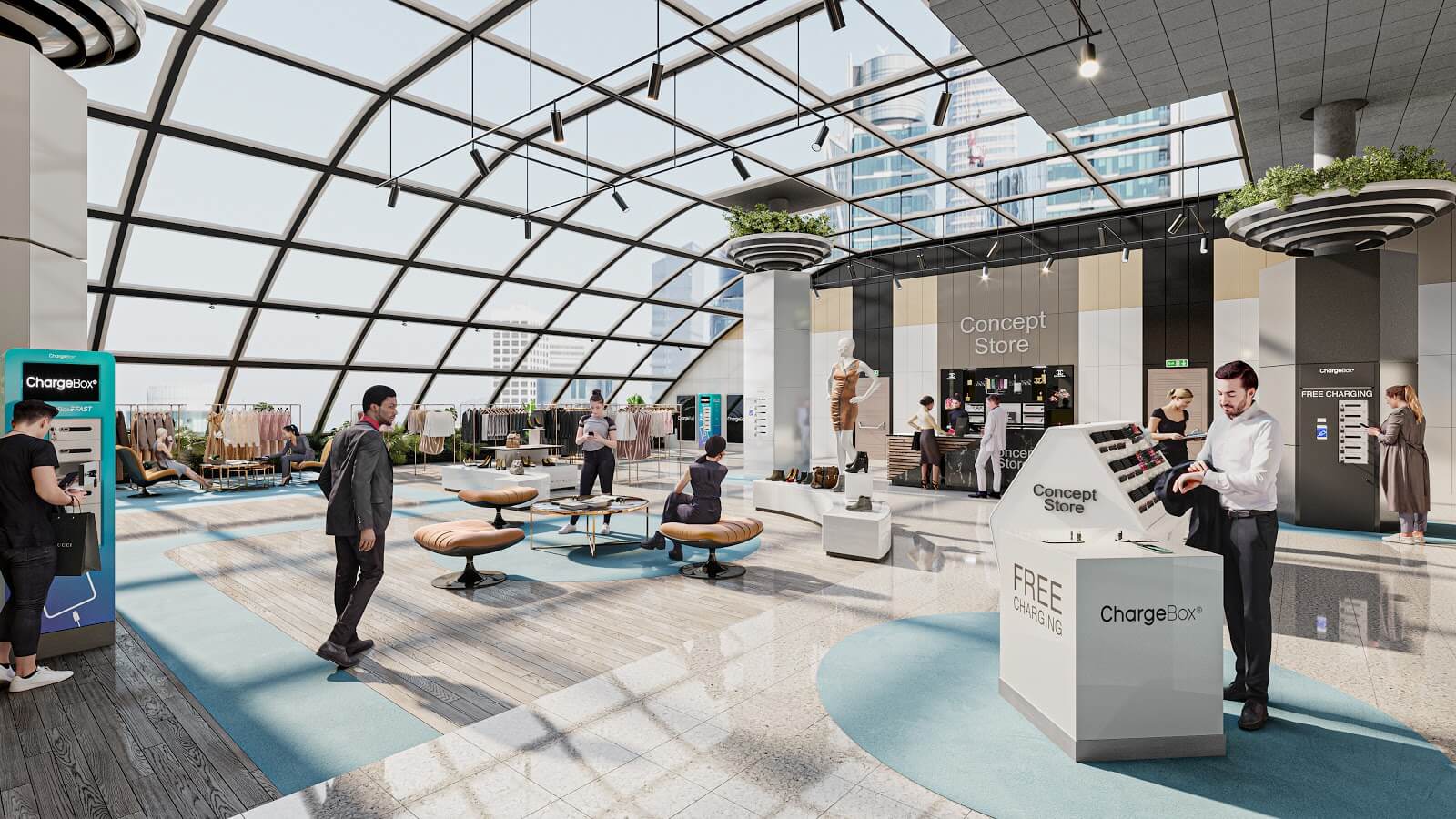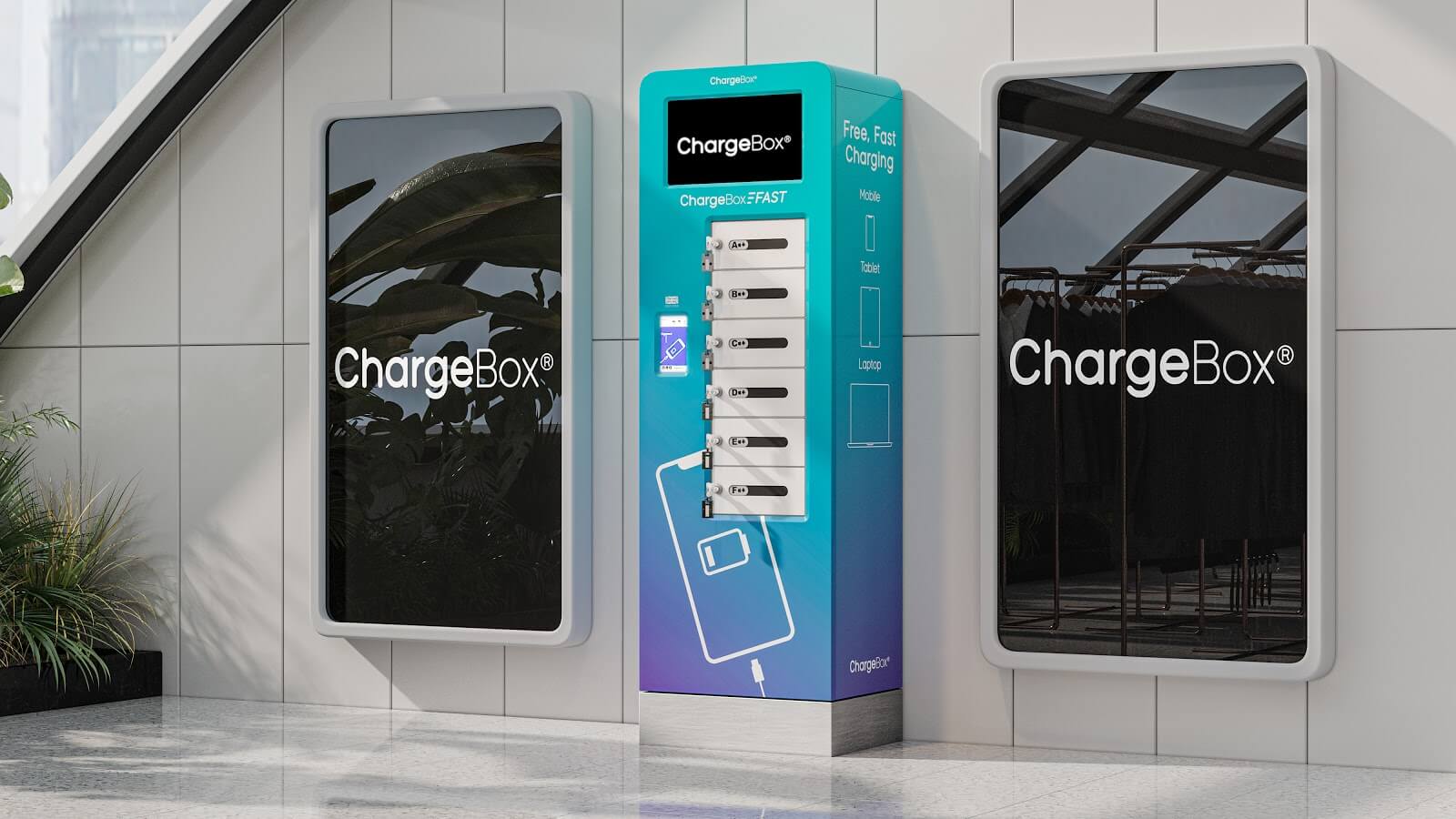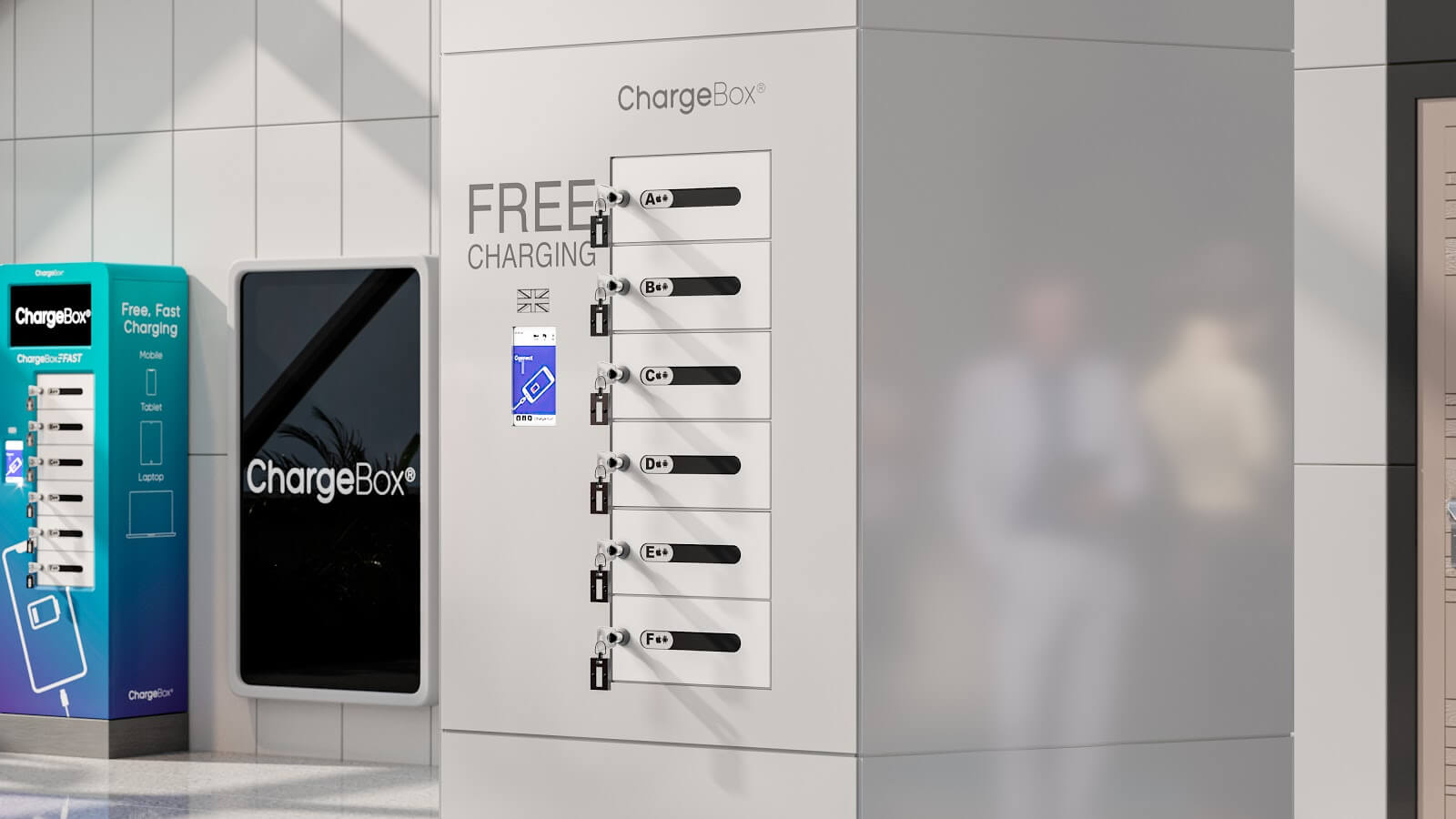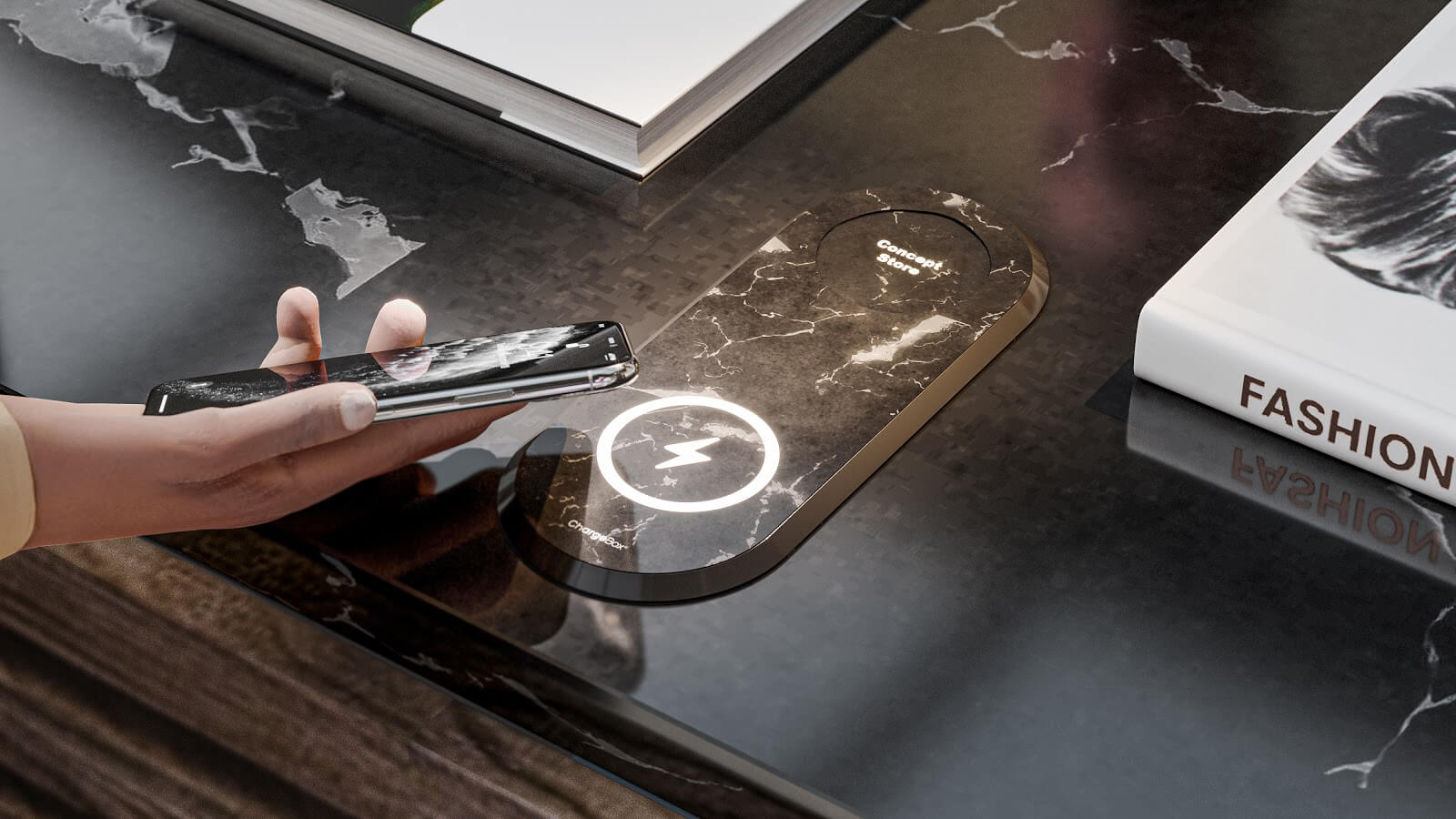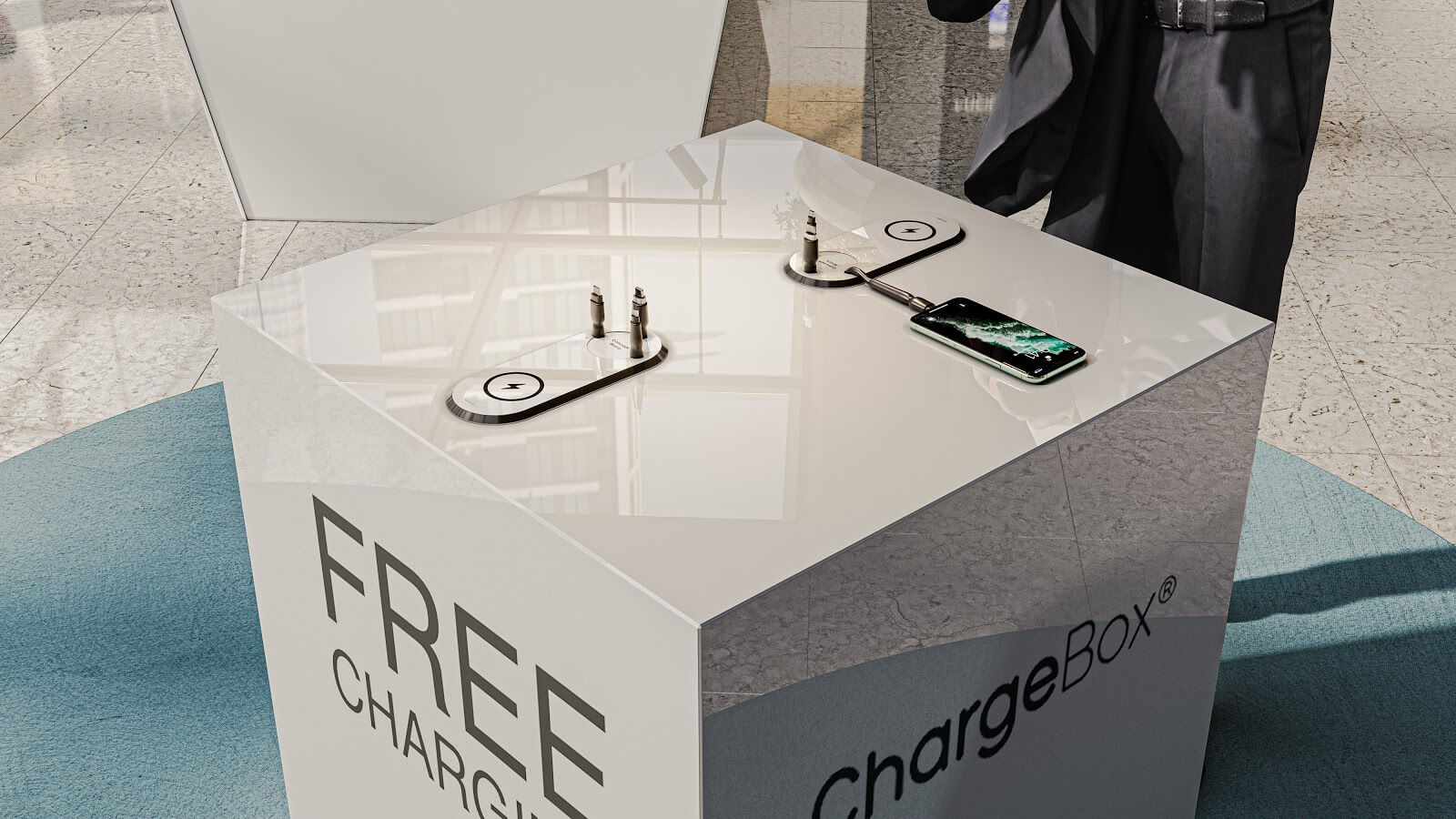 Slide 1
Powering Customer Experience in
'The Store of the Future'
Slide 4
ChangeBox Fast6 - integrated
Slide 7
ChargeBox Fast6 - integrated
Find out what consumers say about ChargeBox.
#ChargeBoxSavedMe
Frequently Asked Questions
What devices can ChargeBox charge?
What infrastructure do I need to install a ChargeBox?
Can my ChargeBox be customised with my company branding?
Why do you provide a managed service for permanent installations?
Do you offer a key pad / pin system?
What happens if a customer loses their key?
Does the ChargeBox have to be inside?
What product range do ChargeBox have?
What are the dimensions of the ChargeBox?
What are the lead times for booking a ChargeBox solutions for an event?
Can I install the ChargeBox or will ChargeBox do this for me?
How do my customers find a ChargeBox?
How long does a ChargeBox charge my phone for?
What happens if there are any issues with my ChargeBox solution?
Can I get reports to see how much the ChargeBox was used?
Who else is ChargeBox charging?
At John Lewis we've always been so passionate about providing our customers with the very best service, and offering free phone charging in our shops is one of our ways of enhancing customer experience. We've seen great feedback from customers on social media, so we're thrilled that this addition to our shops has been such a success.
Manager, Policy, Risk & Control, John Lewis
and many more organisations ...
The ChargeBox commitment to you
Simple
Plug in your device and lock. That's it.
Safe
ChargeBox guarantees safety for both the device being charged and the charging process itself under the terms of our fully managed SLA.
Secure
ChargeBox guarantees against the theft of devices under the terms of our fully managed SLA.